Our Classes (Thursday Evening Gatherings)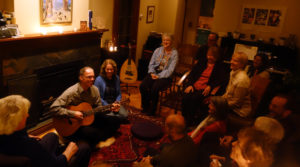 If you are interested in finding out more about the Sufi spiritual path, and enjoy the companionship of others exploring their spiritual life, join us for our weekly gathering on Thursday Evenings (7:45 to 9:45). Our classes are free of charge (donations welcome) and offer an opportunity for learning, spiritual experience and fellowship.
Please e-mail us to let us know you're attending for the first time and to get information about our location.
Everyone is welcome!
Each class is devoted to a particular theme. We use music, meditation practice, 'sohbet' (spiritual conversation), and poetry to explore those themes. We have a brief social time after each class during which refreshments are shared.
Classes are based primarily on the teachings of Hazrat Inayat Khan, but also draw on the poetry and wisdom of countless mystics, poets, and other great beings from all paths – all those who help bring illumination to our journey as human beings.
---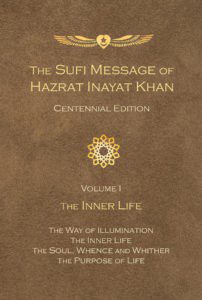 From September 2016 to June 2017, we are studying themes from "The Inner Life" (Volume 1 of the Centennial Edition of The Sufi Message of Hazrat Inayat Khan. Though it is not required to have a copy to attend classes, this remarkable collection of teachings is available for purchase through our centre, Omega Press or Amazon.
The works of Hazrat Pir-o-Murshid Inayat Khan are one of the great spiritual treasures of the world. At once deeply rooted in the Sufi tradition and strikingly original in insight and expression, Inayat Khan's teachings remain as potent and meaningful today as they were when originally communicated a century ago, with a message for every human mind and heart, and indeed for humankind collectively.