Unity Dances
The Dances of Universal Peace and Walking Concentrations are spiritual practice in motion. Inspired by the one truth found within all spiritual and religious traditions, the Dances blend mantras (repetition of sacred phrases), traditional as well as new music and simple but transformative movement into a living experience of unity, peace and integration. This taste of our true nature – as Universal Peace – opens each participant to the possibility of a deep meditative, spiritual experience through movement and sound.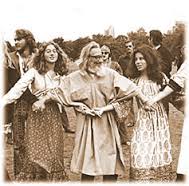 These dances were originated by Murshid Sam Lewis (Sufi Ahmed Murad Chishti), a student of Hazrat Inayat Khan.  As early as 1940 he first noted the power of spiritual dance to awaken human beings to their true nature. He wrote:
"What does dance do for us? First and foremost, it inculcates the sense of rhythm and enhances our response to rhythm. This is really a response to life. It makes us more living, which is to say, more spiritual. It brings out beauty of form and movement, and envelops our personalities in the enjoyment of them. It takes us beyond ourselves, bringing an initial taste of the state of non-being, which is really a balm for the soul."   
Our Vancouver Dance circle, led by Amir O'Loughlin, meets at the Quaker Hall.  At present there is no fixed schedule.  To be notified about when a Dance is scheduled, please contact us or subscribe to our Caravan e-mail Update list.
Our dear friend Allaudin Sandy Hill co-leads a Dance Circle in North Vancouver on a monthly basis.  For further information, please contact him at sandyhill@telus.net