Universal Kirtan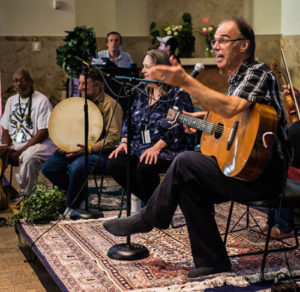 Universal Kirtan is what the Sufis call Sema, a journey to Divine Presence through sound. As in traditional Kirtan, the medium we use includes chants and songs, as well as sacred poetry, and to make it 'Universal' we draw from the many spiritual and faith traditions of the world to honour the One expressed by the Many. More than simply music, these Kirtans are designed to bring joy, inspiration, ecstasy, deep peace, and fellowship in community (Sangha). No experience is necessary. Just allow your voice and heart to soar!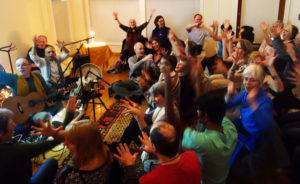 Universal Kirtan is led by Amir O'Loughlin, a pioneer of inter-spiritual music in Vancouver, and features a roster of fine Vancouver world music instrumentalists and vocalists. We are a 100% volunteer Kirtan and each month raise funds through donations at the door for a variety of worthy charitable organizations. It is our aim to love and serve humanity with our Kirtans, as well as give participants an experience which touches the soul with beauty.
Currently, our Universal Kirtan is being held at Bridge & Enrich Lives Society.  They are held almost every month, and to find out the date of the next Universal Kirtan, please contact us. There is a requested donation at the door ($20 suggested, but no amount is too small, and no one is ever turned away for lack of funds), and all of your donation (beyond our room rental) goes to our designated charity. So, join us for joyful evenings of sacred sound as well as for an opportunity to give financial support to those service organizations meeting the needs of our world.
Here are some samples of Kirtan songs:
Remember the Loveliness Inside You – Ishq Allah
---
Hineni (song by Shefa Gold)